In Vietnam, weddings are considered not only for the brides and grooms but also for the bonding of two families as in-laws. The guests are also taken care of during a traditional ceremony that requires many steps and items.
That is why choosing a wedding planner is very important to have a perfect wedding. So in this article, we will give you a list of top 11 wedding planners in Vietnam to help create your happy ceremony.
Wedding planners in Hanoi
1. WedinStyle – The Stylish Wedding Planner of Vietnam
Nowadays, the bride and groom are always looking forward to having a different wedding. Understand this, WedinStyle always creates a happy wedding that is based on the couple's joy. Not only is WedinStyle among Top 11 Wedding Planners In Vietnam but we also constantly update the trend from every region with new and unique ideas for each wedding, each style, each story, each request.
Address: 59 Trang Thi Street, Hoan Kiem District, Ha Noi
Hotline: 093 785 6300
2. The Planners
The Planners is a professional wedding planner with the aim of creating a unique and beautiful wedding for every couple when using their services. As one of the most famous names in the field, The Planners has provided professional services for couples in Vietnam as well as abroad.
Address: 21C Cao Ba Quat Street, Dien Bien Phu Ward, Ha Noi
Hotline: +84 967 884 766
3. MHS Planner
MHS Planner is always a household name in Ha Noi's wedding planning and events. Their specialty is the high-end wedding and personal events and they have shown the talent with every ceremony. Creativity, experience, and professionalism are why MHS deserves to be one of the top wedding planners In Viet Nam.
Address: 7A Lo Duc Street, Hai Ba Trung District, Ha Noi
Hotline: +84 912767334
4. Hajime Wedding & Event
Hajime is an innovative wedding and event planner based in Hanoi. Like MHS. they always want to give customers the best service with luxury settings. The marvelous works make HAJIME one of the top 11 wedding planners In Viet Nam.
Address: K5 Nghi Tam, 11 Xuan Dieu Road, Tay Ho District, Ha Noi
Hotline: 0986679523
5. Voan Wedding & Event Consultants
Voan Wedding & Event Consultants is one of the leading wedding planner & event organizer in Hanoi. Choosing VOAN, you are reassured with a peace of mind during preparation and can fully enjoy your most important day.
Address: 8A Yen Phu Street, Tay Ho District, Ha Noi
Hotline: 0983 468 308
6. The F Lab
Founded in 2016, The F Lab is increasingly gaining popularity as a professional wedding planner in Vietnam. They always approach a wedding as the most truthful friend and creat high-level services for the best ceremony.
Address: 236C Le Trong Tan Street, Thanh Xuan, Ha Noi
Hotline: (+84) 94 6867 024
Wedding planners in Ho Chi Minh
7. Bliss Wedding & Events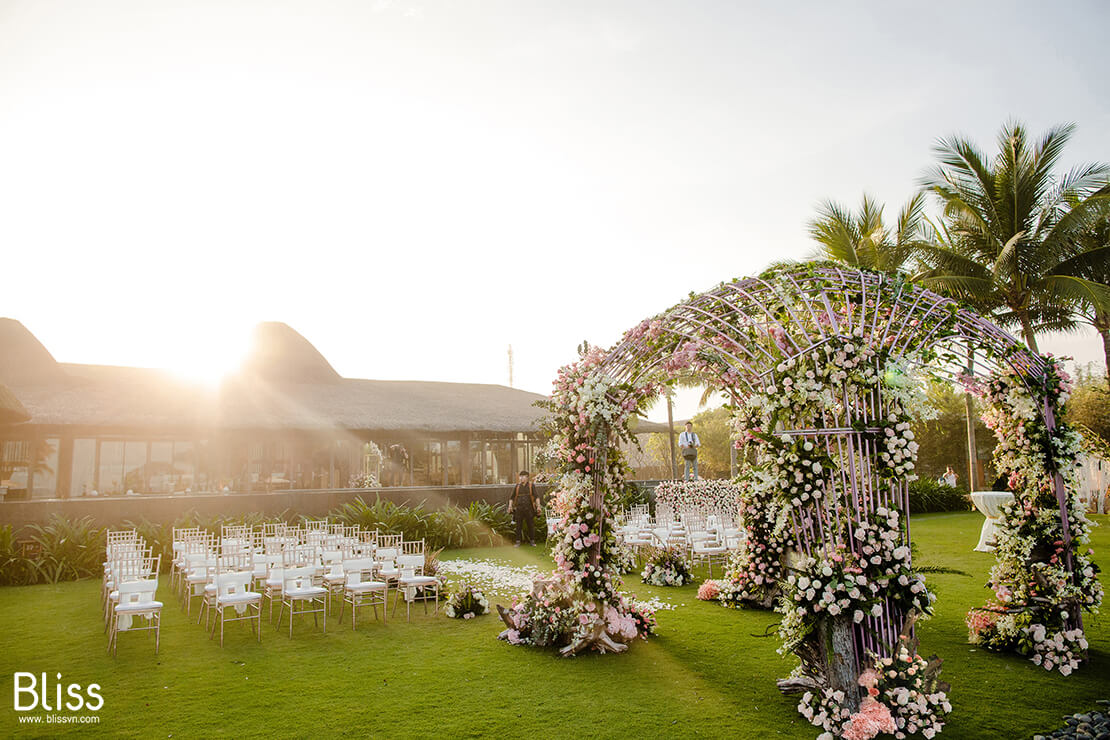 With passion, enthusiasm, as well as professionalism, Bliss is among the top 11 wedding planners in Vietnam is ready to serve customers. Based in Ho Chi Minh city, Bliss is also specialized in destination events and festival decorations.
Address: 4th Floor, Centec Tower 72-74 Nguyen Thi Minh Khai Street, District 3, HCMC
Hotline: +84 901332552
8. Confetti
Always emphasized "wedding concept", Confetti learns the characteristics of the customer's love story and combining their interests to make a wonderful wedding theme. If you chose Confetti, your wedding ceremony will surely be a unique and memorable party.
Address: R34, 2nd floor, alley 54, Ki Con Street, Nguyen Thai Binh Ward, District 1, HCMC
Hotline: +84 906901999
9. Cleo Wedding Planner
With a young and enthusiastic team, Cleo wedding planner always wants to bring happiness to every couple. They will make you shine at your ceremony with the best ideas that not only elegant but also characteristic.
Address: 216/3 Dien Bien Phu Street, Ward 8, District 3, Ho Chi Minh City.
Hotline: 090 994 85 66
10. Kiss Wedding Event Planner
As a wedding planner that is specialized in event-wedding, Kiss Wedding can help make a wonderful ceremony. They show consideration for each moment and commit to creating the best looks for the most important event of your life. That is why they are among the top 11 best wedding planners in Vietnam.
Address: 22/28 Yên Thế, ward 2, Tan Binh District, Ho Chi Minh City.
Hotline: 089 831 79 80
11. Nhu Cam Wedding Team
Nhu Cam Wedding Team has successfully organized many weddings over the years with the best results. They are certainly a trustful companion who you can trust to create your perfect wedding.
Address: 143 Nguyen Thai Binh Street, District 1, HCMC
Hotline: 094 306 06 99
That is our list of top 11 wedding planners in Vietnam that can help you plan your wedding day. We hope you can find the best choice for your wedding, and WedinStyle is always here to assist your one-of-a-lifetime event.
---
WedinStyle – The Stylish Wedding Planner of Vietnam
Address: 59 Tràng Thi, P Hàng Bông, Hoàn Kiếm, Hà Nội
Email: info@wedinstyle.net
Phone: + 84 4 39440374/75
Hotline: 093 785 6300